Root Canal Treatment in China Grove, San Antonio TX
While no one ever wants to deal with a troublesome tooth, gone are the days of scary root canals. In fact, at Professionals in Dentistry, the dentists make the process simple, stress-free, and effective for all patients.
Who Needs a Root Canal?
A patient might need a root canal if their tooth has been severely damaged or infected, resulting in death of the nerve. A root canal is designed to get rid of the damaged roots of the tooth, which is done to:
Lower the risk of additional damage
Prevent total tooth loss
Save the part of the tooth sitting above the gumline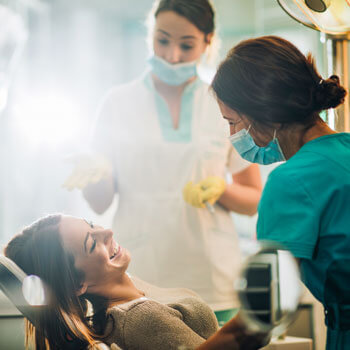 The Root Canal Process
If the infection of a patient's tooth requires antibiotics, the dentist will prescribe some prior to treatment.
When a person arrives for their visit, the dentist will begin by providing local anesthesia to make the experience comfortable and pain free. Next, the root canal is performed. To ensure a patient's smile remains beautiful, the tooth may be fitted with a crown to offer an improved look and function.
Learn More Today
Don't delay root canal treatment. Get effective treatment today by calling the practice to learn more or book an appointment.
CONTACT US »

San Antonio TX Root Canal Treatment in China Grove, serving Adkins, St. Hedwig, & La Vernia | (210) 648-4411