Root Canal Treatment in San Antonio
While the term "root canal" can be scary to hear, the team at Professionals in Dentistry would like to help people understand the importance and ease of dealing with a troublesome tooth.
Here, the team helps patients through their dental troubles, and can't wait to get their oral health back on track.
What is a Root Canal?
A root canal removes infected tissue from the roots of the tooth beneath the gums. This is done to:
Save the part of the tooth above the gums.
Minimize the risk of further damage.
Prevent the loss of the tooth entirely, requiring more extensive and expensive treatment.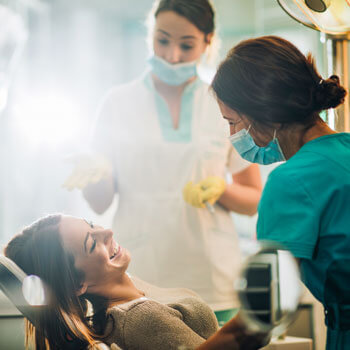 What To Expect
Depending on the severity of the infection, the dentist may prescribe an antibiotic for the infection prior to performing the actual procedure.
The root canal procedure then begins with the administration of a local anesthetic. Next, the dentist removes the damaged nerve tissue.
The root canal may be completed in one or two visits.
Get Started Today
Feeling moderate to severe tooth pain and notice swelling of the gums? Book a visit with the team today. Without treatment, the infection in the tooth may spread and cause more problems.
At Professionals in Dentistry, the dental team is skilled in root canal therapy, so there is no need to put off treatment. Get relief today!
CONTACT US »

Root Canal Treatment San Antonio TX | (210) 648-4411