New Patients at Professionals in Dentistry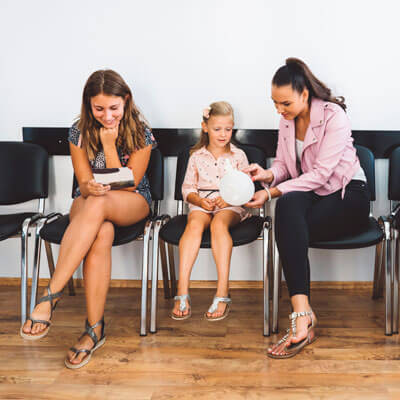 Welcome to Professionals in Dentistry! The entire team seeks to make each new patient experience as pleasant and seamless as possible. The friendly and compassionate staff members will ensure everyone feels cared for.
Before a first appointment, the team will email new patient paperwork, which patients are asked to bring with them, or email back to the practice.
The team knows your time is valuable and takes pride in seeing patients as promptly as possible.
The First Appointment
During a patient's first appointment at Professionals in Dentistry, they will receive an exam, x-rays, oral cancer screening, and a review of health history. If a patient is not comfortable with traditional dental x-rays, the team can perform an extraoral radiograph for enhanced comfort.
Patients will then receive a care plan which is created based on their specific dental needs. A member of the team will consult patients on their custom care plan, and schedule follow-up appointments as needed.
Please allow 90 minutes for this appointment.
Dental Hygienist Appointment
In addition to the above, a hygienist will speak with patients about their dental goals and what they are hoping to achieve. If appropriate, the hygienist will then perform a dental cleaning and schedule the next routine cleaning in six months.
Book an Appointment
Welcoming new patients from nearby communities, such as China Grove, Lakeside, Adkins, St. Hedwig, Martinez, & La Vernia, as well as farther away areas like Boerne, The Dominion, and Alamo Heights!

New Patients at Professionals in Dentistry | (210) 648-4411