Dental Implants in China Grove, San Antonio TX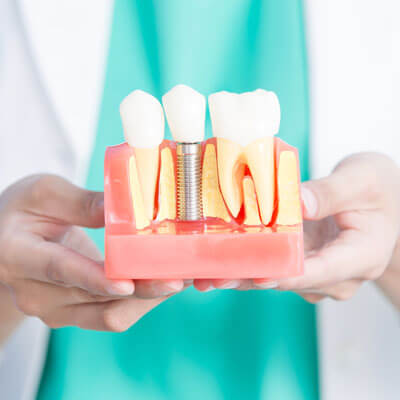 In addition to lowering self-confidence, missing teeth can affect a person's physical health over time as the risk of oral infection and wear and tear on other teeth increase.
Thankfully, Professionals in Dentistry has the perfect solution.
Dental implants can take a patient who is missing one or several teeth back to a fully functioning smile that looks and feels entirely natural. The best part? Implants are long-lasting when properly cared for, meaning a patient's new teeth can last for years, or even a lifetime.
What to Expect
The dental implant process involves visiting Professionals in Dentistry a few times over the course of a few months. First, the dentist will determine a patient's candidacy for care and recommend an ideal treatment plan.
If implants are recommended, the first step is prepping the mouth and jaw to hold the implant. Once the gums and jaw bone heals after preparation, the patient will return for implant placement.
After placement, the team likes to see patients back for one final visit to ensure everything is comfortable and fully functioning.
Schedule A Visit
Curious about implants? Professionals in Dentistry is here to help patients understand the best treatments for their smile. Learn more by contacting the practice today and booking an appointment.
CONTACT US »

San Antonio TX Dental Implants in China Grove, serving Adkins, St. Hedwig, & La Vernia | (210) 648-4411