Preventive Care & Cleanings in
China Grove, San Antonio TX
A healthy smile is a beautiful smile. At Professionals in Dentistry, it's the goal of every member of our team to help patients achieve exactly that. The best way to ensure a beautiful, long-lasting, and healthy smile is to visit the practice every six months for a checkup and cleaning appointment. From children to adults and seniors, everyone is encouraged to book a visit.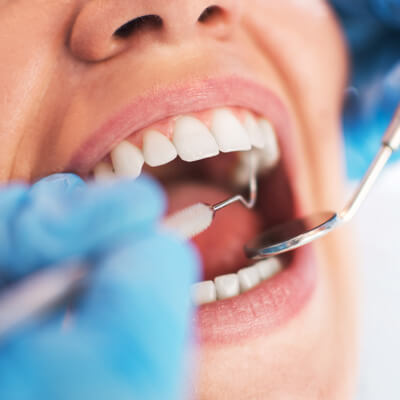 What to Expect
During a checkup and cleaning visit, a patient will typically see a hygienist and the dentist, who will:
Take X-rays of the mouth to look for any changes or problems since the last visit
Clean the teeth thoroughly
If necessary, perform a fluoride treatment
Discuss further treatments if required
Check the oral cavity for other issues like infections, tooth decay, oral cancer, cracks, cavities, and more before anything becomes serious.
Care for Nervous Patients
Checkup and cleans are integral to keeping smiles bright and healthy for years to come, as well as give our dentists a chance to provide their expertise when it comes to oral health.
If a patient is nervous or anxious, they can be easily accommodated with gentle and relaxing measures. Every patient is considered to be a part of the family, and the entire team hopes they'll feel at home at every visit.
Smile Brighter Today
In need of a checkup and clean? Here, patients are never judged if it's been a while since their last visit. The team is simply happy to help now. To get started, contact the office to schedule a visit.
CONTACT US »

San Antonio TX Preventive Care & Cleanings in China Grove, serving Adkins, St. Hedwig, & La Vernia | (210) 648-4411