Meet David Little, DDS
Changing People's Lives
I view being able to provide dentistry as a gift, in that we get to change people's lives—getting them out of pain and helping them eat what they want not what they can. And then most importantly, it's fulfilling to see the emotional rewards of a patient going from 'I never used to smile and now I smile.' That opens so many doors for patients."
A Passion for Education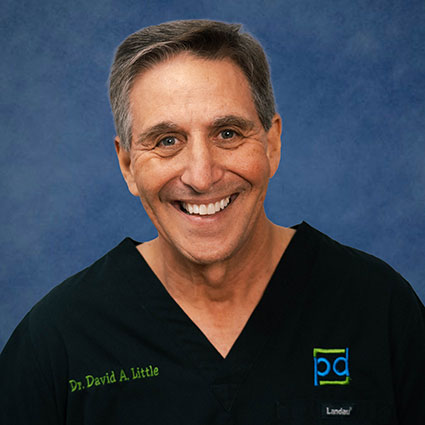 Dr. Little graduated from the University of Texas Health Science Center at San Antonio Dental School in 1984. As he was born and raised here, he was glad he could attend dental school in the city. He's also served as an adjunct clinical professor at the dental school for many years.
As a world-renowned practitioner, Dr. Little felt blessed to teach dentists around the globe. "I've been teaching dentistry all over the world, and now I do a lot of teaching in our practice where we bring doctors in, do live surgeries and educate these dentists."
In addition to providing instruction, Dr. Little is also writing a textbook on dental implants. "One of my passions is to teach people to do dentistry with the new technologies available to us."
Dr. Little is constantly learning, staying up to date on the latest in dentistry for the benefit of his patients. Using different technologies, he can see the "before" and show people virtually what the "after" will look like before he begins treatment.
He serves on several editorial boards and is an Adjunct Clinical Professor at UT Health San Antonio Dental School. He also lectures and performs live implant surgeries at several major dental meetings.
EXPLORE OUR SERVICES »
Associations & Fellowships
Dr. Little is a member of the following:
American Dental Association
Academy of General Dentistry
American Academy of Cosmetic Dentistry
American Academy of Implant Dentistry
Academy of Laser Dentistry
International College of Dentists (Fellow)
American College of Dentists (Fellow)
American Academy of Dental and Facial Aesthetics (Fellow)
Outside the Practice
When he's not caring for patients' smiles, Dr. Little enjoys spending time with his wonderful wife, who he's been married to since 1984. They have two children, Morgan and Zachary, and one grandchild. Dr. Little enjoys traveling and is an avid golfer, so he enjoys playing as much as possible.
Book an Appointment
Contact Professionals in Dentistry today to schedule an appointment with Dr. Little!


Dr. David Little | (210) 648-4411